Lead Generation & Business Development
Trade Missions & Promotions
WHO WE SERVE
BUYERS AND SELLERS
We work with culinary buyers and sellers to help them find their perfect market fit and source available inventory including bulk, wholesale, foodservice, retail, white label, organic, biodynamic and more.
TRADE ORGANIZATIONS
We help trade organizations identify and expedite new trade opportunities for their constituents, with a special focus on culinary buyer types. Our sales focused trade promotions generate valuable leads and our technical assistance optimizes return on investment.
GOVERNMENT AGENCIES
We support governments around the world with intelligent market matching, trade promotions and trade lead development and servicing.
GLOBAL FOOD & BEVERAGE IMPORTERS & DISTRIBUTORS WE'VE WORKED WITH

PROMOTIONAL BOARDS & GOVERNMENT AGENCIES WE'VE WORKED WITH

Our network includes
THOUSANDS OF BUYERS
with over
$6 BILLION
in annual food buying power.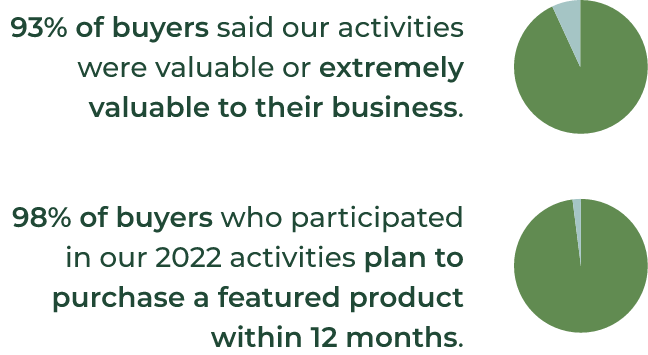 "The mission was the first of its kind to be put together. It was the most beneficial exercise to me, as the buyers were interacting and involved while we were enjoying food and beverages and getting to know each other better. They looked to gain trust and confidence with trusted partners. Keep up the great work."
- Walter Brooks Jr., Brooksmade Gourmet Foods, Inc
"Marianna and Andy were in full command, and the best host for the group. They have created memories and given us exposure to the best of the ingredients. We were introduced to several business heads. That was touching and great. We have started sharing our experiences and soon should come up with requirements for purchases."
– Arun Mathur, Executive Chef, The Oberoi Group, India
"This project gave us a meaningful opportunity to explore brand new markets, and it enabled valuable conversation about the possibility of exporting directly to potential buyers overseas. Bringing these buyers straight to our farm forms a connection that could be very beneficial to our operation."
- Kyle Barfield, Pearson Farm
RECENTLY MATCHED TRADE LEADS