Unlock the Power of Culinary Ambassador Programs: Elevate Your Export Products and Exceed Expectations!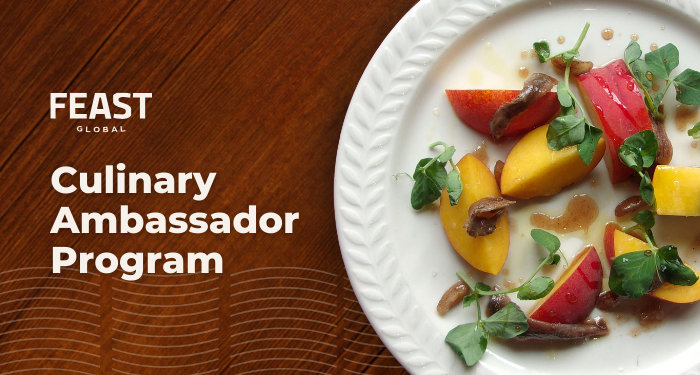 In the world of culinary consulting, many firms may pitch ideas similar to our Culinary Ambassador Program. However, what sets FEAST Global apart is not just our vision but our extensive network of personal relationships that span the culinary world both in the U.S. and around the globe.
The Power of Culinary Connections
At FEAST Global, we don't just connect with culinary professionals; we build genuine relationships that stand the test of time. Our network includes award-winning chefs, influential figures, and culinary experts who are eager to join our mission of culinary transformation. These connections aren't just names on a list; they're trusted allies who are passionate about creating culinary magic.
So, what does this mean for you? It means that when we say we can recruit top-tier chefs for your Culinary Ambassador Program, we mean chefs with a reputation for excellence and innovation that will turn heads and gain respect for your products when they conduct Culinary Ambassador Programs on your behalf.
A Global Network That Knows No Boundaries
Our network isn't confined to the U.S. It extends to every corner of the globe. When you partner with FEAST Global, you gain access to a world of culinary talent and expertise. This global reach means we can design a program that transcends cultural boundaries, making your export products resonate with local tastes and preferences by connecting your Culinary Ambassador Programs with the "right fit" culinary professionals, retailers or other partners in your target market.
Menu Creation That Wows
Imagine top-notch U.S. chefs collaborating with in-market culinary professionals to craft menus that feature your products and increase ordering appeal and success for importers and restaurant buyers alike.
Special Event Dinners That Make History
Join us for ingredient showcases like no other! Our Chef Ambassador Program will instigate unique dinner experiences that spotlight your product hosted by locally influential chefs and the guest chef ambassadors. These events not only educate and inspire influential consumers but also build unwavering confidence and loyalty to your export products with HORECA industry buyers and importers. In fact, our case studies reveal sales skyrocketed in local markets following these unforgettable dining experiences.
Elevating Culinary Training to Excellence
Our Culinary Ambassador Program takes culinary training sessions to new heights! Expect increased buyer attendance and engagement, leading to enhanced product usage and confidence. Imagine the impact when a respected colleague from the U.S. conducts the training—knowledge, skills, and enthusiasm merge to create culinary excellence.
Creating Local Buzz with Culinary Stars
Get ready for culinary stardom in your target markets! FEAST Global's Chef Ambassador Program brings notable U.S. Chef Ambassadors to your key markets for high-profile appearances, tastings, and culinary demonstrations. Their media push opens doors to new sales, increased product usage, and heightened brand awareness.
Sustaining Success Through Retail Promotions
But it doesn't stop there! FEAST Global knows how to keep the momentum going even after your Culinary Ambassador returns home. We collaborate with major retailers to create promotions featuring chef ambassador-crafted videos, eye-catching displays, in-store demos, and more. These promotions not only boost sales but also unlock additional partnership opportunities, ensuring sustained success for your export products.
Ready to embark on this flavorful journey of increased awareness, sales, and confidence for your export products? FEAST Global is currently hosting discovery meetings and submitting customized proposals for 2024 and 2025 projects. As a boutique consulting firm, we are committed to exceptional service and return on investment to a small number of clients. With this in mind, we can only conduct a limited number of Culinary Ambassador Programs per year. We encourage you to connect with us and schedule a no obligation call to learn more about discovering if our Culinary Ambassador Program is the right fit for your ingredient and project.