India: A Key Destination for Agri-Food Exporters
India is an essential place for agri-food exporters aiming to expand their reach. To help you see why, FEAST Global put together an exclusive slide deck with six important points that sum up why India should play a big part in your global trade promotion plan.
Opening Up Big Opportunities: A Look at India's Food Scene
India has the most people in the world, making it a great place for your products. With the U.S. being India's biggest trading partner, this lively market offers vast possibilities. Our slide deck shows how even with a start-up budget, you can get past awareness problems and break into this valuable market.
A Chance to Shine: Taking Advantage of India's Growing Market
The opportunity has never been better as India emerges in many different consumer product areas. Our slide deck gives you a taste of the amazing chance you have to establish a strong presence in a quickly growing economy with lots of potential.
Understanding the Big Retail Picture: India's Booming Food and Grocery Market
India's Food and Grocery (F&G) retail market is one of the world's top three, and it's expected to go over US$850 billion by 2025. More people are moving to cities, many homes have two incomes, and people are making more money, which means more modern shopping. Learn more about the rapid growth of India's F&G market in our slide deck.
Tasting Success: The Thriving Food Service Sector in India
The Indian Food Service Market is worth US$63.7 billion, set to hit US$95.7 billion by 2025 (that's 10.3% growth every year from 2012-2025). More people are living in cities, younger folks are growing in numbers, incomes are going up, eating habits are changing, foreign foods are popular, and more people are traveling for business and fun. All these things are driving growth for imported products.
Spotting Export Chances: Finding What India Wants to Buy
Reports show good chances to export in retail, food service, and food ingredient for sweets and snacks categories. Our slide deck gives a quick look at the products that are in high demand, showing there's a good market for a variety of U.S. exporters. Click here to view the entire deck.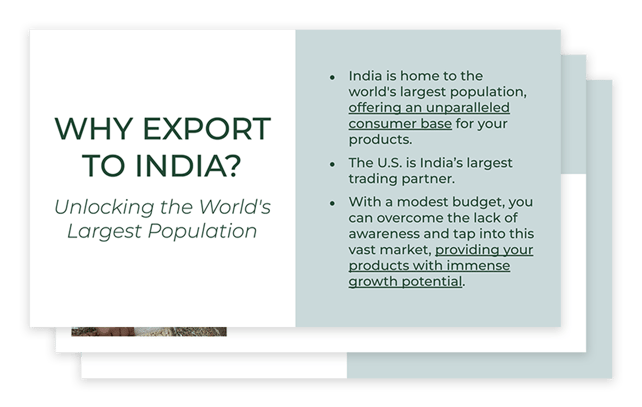 Smart Advice: Navigating India's Potential with FEAST Global
FEAST Global is here to help you tap into India's agri-food market. Our special slide deck is just the start. To learn more and plan your entry into India's market, we invite you to schedule a short Market Discovery call. Together, we can evaluate how India fits into your Comprehensive Global Trade Promotion Strategy.
Let's take this important step together. Contact FEAST Global today to set up your Market Discovery call and get ready for global success.