Meet Latin America's Culinary Titans: A Profile of FEAST Global's Latin America Culinary Advisory Board Members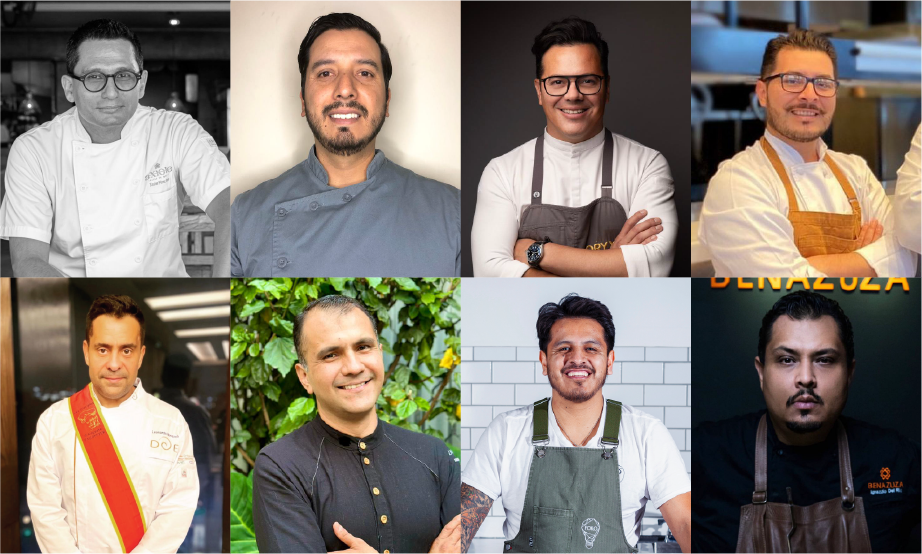 We are delighted to introduce you to the members of FEAST Global's Latin America Culinary Advisory Board. As a global business matchmaker specializing in the culinary industry, our goal is to connect food producers with culinary buyers and help them expand their business. Latin America presents a significant opportunity for food producers, including Mexico, Central America, South America, and the Caribbean. Having a board of culinary insiders from this region is crucial to help our producers make meaningful business connections, as they provide valuable insights into local cuisine, food trends, and cultural nuances.
Our Latin America Culinary Advisory Board members are culinary titans in this region, with a wealth of knowledge and expertise. By exploring each member's full biography, you will gain a deeper understanding of the FEAST Global team and how they propel our mission forward. We are proud to have these culinary leaders as part of our network, and we are thrilled to share their stories with you.
Xavier Perez Stone // Playa del Carmen, Mexico
Xavier Perez Stone is a renowned chef based in Playa del Carmen, Mexico. With international experience working in 3-start Michelin restaurants, he has also served as a private chef for the Spanish Embassy in Mexico and the Executive Chef for the Secretary of the Treasury in the National Palace of Mexico.
Perez Stone has received numerous accolades throughout his career, including opening Cocina de Autor at Hotel Grand Velas Riviera Maya, which was recognized as one of the best restaurants in Mexico by Travel & Leisure Magazine, BBVA Bancomer, and Food & Wine Magazine. He is currently the Executive Chef and Owner of Axiote Cocina in Playa del Carmen, which has been recognized by the Mexico Gastronomic Guide as one of the best restaurants in Mexico since 2016.
As a two-time winner and two-time runner-up for Best Chef in Mexico, Perez Stone is also the founding Chef of the Collective of Cooks of the Riviera Maya. He frequently participates in global culinary conferences, writing projects, and food festivals, and serves as a consultant chef for numerous new restaurant projects across Mexico and beyond.
Perez Stone has also hosted top chefs from around the world for collaborative events in his restaurants. His newest project is as Co-owner and Chef at Balik, Cocina de Mexico in Balcalar, Quintana Roo, since 2022. With his vast experience and expertise in the culinary industry and fluent English language and a frequent world traveler, Perez Stone is a valuable member of the FEAST Global Culinary Advisory Board.
Ruffo Ibarra // Baja, Mexico
Ruffo Ibarra is a highly regarded owner and executive chef based in Baja, Mexico. He is the proud owner of Oryx Restaurant, which was recently named the People's Choice Best Restaurant in Baja by San Diego Magazine. In addition to Oryx, Ruffo also founded Nortico, the first speakeasy in Baja, which has quickly become a popular destination for locals and tourists alike.
Beyond his culinary achievements, Ruffo is also known for his philanthropic efforts. He works alongside Chef Jose Andres in charities like World Central Kitchen, This Is About Humanity, and Fundación Tijuana Sin Hambre, providing aid and supplies to immigrants at the border. His commitment to humanitarian causes has earned him a reputation as a compassionate and dedicated member of the culinary community.
In recognition of his many contributions to the industry, Ruffo was inducted into the Tijuana Hall of Fame in 2022. He is also currently serving as the Jury and President of the Mexican Team at Bocuse d'Or 2022-2023, the most prestigious culinary competition in the world. His experience and expertise have made him a sought-after consultant for restaurants and culinary projects throughout Mexico.
Despite his many accomplishments, Ruffo remains dedicated to his craft, constantly pushing the boundaries of Mexican cuisine and striving to create unforgettable dining experiences for his guests.
A celebrity in his own right, Ibarra speaks fluent American English and makes frequent visits to the U.S. including his 2022 participating in a FEAST Global culinary tour in Texas. He is a dynamic media personality with a vast culinary influence across Latin America, making him a valuable member of FEAST Global's Latin America Culinary Advisory Board.
Jonathan Islas // Guadalajara, Mexico
Jonathan Islas is an accomplished chef born and raised in Guadalajara, Jalisco, Mexico, and he recently returned to his home region to open the new J.W. Marriott Guadalajara in 2022. American-educated, Islas holds a Bachelor's degree in International Administration of Hospitality, Gastronomy, and Tourism with a specialization in Gastronomy. During his studies in the U.S., he trained as a cook in West Virginia, where he learned the traditional BBQ cuisine.
After graduating in 2011, Jonathan began working with Marriott International at the JW Marriott Brickell in Miami, FL. He then moved to Guadalajara in 2013 to become the Executive Sous Chef for the opening of the Westin Guadalajara. He later joined Starwood-Marriott's culinary team under the Senior Miguel Piñero, where he worked on multiple luxury hotel openings across Mexico, including the Aloft Guadalajara, Four Points Cancun, Four Points Puebla, Aloft Veracruz, and the rebranding of the main restaurant at the W Hotel in Mexico City, between 2014 and 2019.
In 2019, Jonathan decided to take on a bigger challenge and became the Director of Food and Beverage at the TRS Yucatán Riviera Maya, a 500-room hotel with Forbes certification. His leadership and culinary skills helped elevate the hotel's dining experience to the next level.
In the middle of 2022, Jonathan was called to lead the culinary team and open the JW Marriott Guadalajara. He also established his own catering business called Brassa Banquetes, which offers top-notch catering services for events in Guadalajara.
Jonathan is a fluent English speaker and participated in a 2022 culinary tour coordinated by FEAST Global. His extensive experience and passion for the culinary arts have earned him a reputation as one of the most talented chefs in the region.
Leonardo Menezes de Souza // Mexico City & Rio de Janiero
Leonardo Menezes de Souza is a highly accomplished International Executive Chef originally from Rio de Janeiro, Brazil and currently based in Mexico City. He is widely recognized for his expertise in Brazilian cuisine and has represented his country in various international culinary events around the world.
After gaining experience in fine restaurants in Brasil Mexico City, Leonardo began his international career as the executive chef for the Embassy of Brazil in Mexico. He worked tirelessly to promote the rich flavors and traditions of Brazilian cuisine to a wider audience and quickly became one of the leading culinary figures in the country.
Leonardo is also a frequent world traveler and has been involved in various international projects, including a week of Brazilian gastronomy at Hotel Cosmos in Bogota, Colombia. He is a member of the Vatel Club Mexico and the French Culinary Academy and was the recipient of the prestigious Vatel Spirit Award in 2020, a testament to his passion and dedication to the culinary arts.
In addition to his culinary pursuits, Leonardo is also a dedicated practitioner of Jiu Jitsu, a martial art that requires discipline, focus, and respect, all qualities that he brings to the kitchen as well. He was raised with a strict military-style education by his father, balanced by his mother's artistic sensibilities as a painting teacher in Fine Arts, instilling in him a strong sense of honor and respect for his craft.
Leonardo is constantly pushing the boundaries of Brazilian cuisine, conducting innovative culinary events and guest chef menus around the globe. His commitment to excellence, attention to detail, and love for the trade have earned him a well-deserved reputation as one of the most talented and respected chefs in the industry.
Ignacio del Rio Mora // Cancun, Mexico
Ignacio del Rio Mora is a highly acclaimed executive chef in Cancun, Mexico. He currently holds the position of executive chef at Restaurante Benazuza, which has earned the distinction of being recognized as the #1 restaurant on TripAdvisor since 2016.
Throughout his illustrious career, Ignacio has received numerous accolades for his exceptional culinary skills. He is a proud recipient of the coveted 4 AAA diamonds and has been recognized with three awards from the world luxury restaurant awards, including the Mexican cuisine global winner, luxury resort restaurant continent winner, and molecular cuisine continent winner for North America.
In addition to his outstanding work at Restaurante Benazuza, Ignacio is an active member of the culinary community. He frequently participates in global culinary conferences, writing projects, and food festivals, sharing his expertise and passion for Mexican cuisine with the world. His contributions have helped elevate the reputation of Mexican cuisine on the international stage.
Ignacio's love for food stems from his upbringing in a small town near Guadalajara. He also gained international experience working as a chef in Spain, which further honed his skills and exposed him to new culinary techniques and styles. Fluent in multiple languages including Spanish, English and French and a frequent world traveler, del Rio Mora is a valuable member of the FEAST Global Latin America Culinary Advisory Board.
Froylan Ramos // Peninsula Papagayo, Costa Rica
Froylan Ramos is an accomplished executive chef with over 15 years of experience in the hospitality industry. Originally from Mexico, Froylan has worked in some of the most prestigious resorts and hotels in the country, and he is currently the Executive Chef at Andaz Costa Rica Resort at Peninsula Papagayo, Costa Rica, where he has been since November 2022.
Before joining Andaz Costa Rica Resort, Froylan spent over 11 years at the Rosewood Mayakoba, one of the most acclaimed resorts on Mexico's Riviera Maya, where he started as an Executive Senior Sous Chef and worked his way up to become one of the most respected chefs on the team. During his time at Rosewood Mayakoba, Froylan was responsible for overseeing all culinary operations, including menu development, staff training, and ensuring a high level of guest satisfaction.
Prior to his time at Rosewood Mayakoba, Froylan was a Chef de Cuisine at the Mandarin Oriental Hotel Group in Playa del Carmen, Quintana Roo, where he worked for three years. Froylan's extensive experience and culinary expertise have earned him a reputation as one of the most talented chefs in the region. He is an English speaker and even participated in the FEAST Global culinary tour in 2022.
In addition to his culinary talents, Froylan is also a skilled communicator and team leader. He has a talent for bringing together diverse groups of people and motivating them to work together to achieve a common goal.
Oscar Trejo // Pembroke, Bermuda
Oscar Trejo is a talented executive chef working in Pembroke, Bermuda. From Mexico City, he has been working in the food and beverage industry since he was 17 years old. After gaining valuable experience working in restaurants in Mexico City, Oscar moved to Cancun in search of opportunities in hotels. He quickly established himself as a top chef, working at AAA five diamond properties such as Fiesta Americana Grand Coral Beach and Fairmont Mayakoba.
Oscar's culinary skills and reputation continued to grow, and he eventually became the Executive Chef at a luxury hotel restaurant in Playa Del Carmen, Thompson Playa Del Carmen. His dedication to creating innovative dishes and using fresh, locally-sourced ingredients helped make him a respected figure in the culinary world.
Oscar moved to Bermuda to open and lead the new 1609 Restaurant, located in the prestigious Hamilton Princess Hotel. 1609 Restaurant is the first restaurant on the island with a Latin-inspired menu, and Oscar's expertise in creating unique dishes with a Latin twist has been instrumental in the restaurant's immediate success.
Despite being new to the island, Oscar has quickly made a name for himself in Bermuda's culinary scene. He is passionate about showcasing the flavors and ingredients of Latin American cuisine to a wider audience, and has won over diners with his creative and delicious dishes.
Leonardo Paco Garcia // Louisville, Kentucky via Mexico City
Leonardo Paco Garcia is a highly accomplished Owner and Executive Chef based in Louisville, Kentucky. He draws inspiration from his upbringing in Mexico City, which is then refined by almost a decade of living and training in Kentucky. In 2018, Garcia was nominated for the prestigious James Beard Award for Best Chef Southeast, and was recognized as Best New Chef by Louisville Magazine. Garcia's passion for culinary traditions led him to partner with experienced restaurant manager Josh Gonzalez to realize their dream of opening FOKO.
At FOKO, Chef Paco Garcia infuses his Latin American culinary background with the hospitality and cuisine of the American South to create a unique dining experience that combines great dishes with the power of shared experience. This approach has won the hearts of many diners and critics alike, establishing FOKO as one of the most sought-after restaurants in Kentucky.
In December 2021, Garcia opened La Pana Bakery & Cafe with his long-time pastry chef at FOKO, Diego Hernandez, who is originally from Oaxaca. The bakery showcases elements of traditional Oaxacan baking through cinnamon rolls, artisan bread, croissants, scones, and donuts.
Chef Paco Garcia's passion for culinary arts extends beyond his restaurants. He frequently participates in food events, charity events, and cooking classes, including Spanish-language cooking demonstrations and product reviews for FEAST Global Latin American buyer outreach and education. With his vast culinary network across Latin America, Garcia is a valuable member of FEAST Global's Latin America Culinary Advisory Board. His contributions to the culinary industry have helped to elevate the reputation of Mexican cuisine in the United States and assist American ingredients with placement in Latin American kitchens.
Schedule a Discovery Call Today
If you are interested in expanding your business opportunities in Latin America through FEAST Global's promotional services and connections through our Latin America Culinary Advisory Board, we invite you to schedule a no-cost discovery call. Our team of experts will work with you to understand your business goals and identify the best opportunities to connect you with culinary buyers in the region. Don't miss out on the chance to grow your business and explore the exciting culinary landscape of Latin America. Contact us today to schedule your call and take the first step towards culinary success.