FEAST Global Offers Unprecedented Access to Mexican Culinary Buyers with New In-Country Representation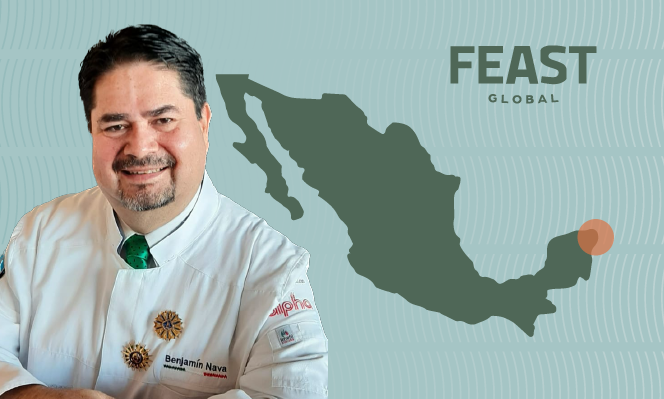 Editor's Note: This press release was distributed to American media on March 22, 2023.
Eligible Products and Trade Organizations Invited to Participate in June PR Campaign Targeting Pre-Qualified Buyers in Quintana Roo State
MARCH 22, 2023 – FEAST Global, a US-based company specializing in global food matchmaking between culinary buyers and premium food ingredients, has announced the opening of its new office in Cancun, Mexico.
The move comes as a response to the growing demand for premium food products in the country, particularly in the resort, hospitality, and chef-driven restaurant sectors. The United States-Mexico-Canada Agreement (USMCA) has allowed food producers in the US and Canada to trade freely with Mexican importers, making the opportunity for North American food producers to take advantage of the tourism boom even more accessible.
The new office will provide in-country representation led by Benjamin Nava and his wife Azucena Salazar, who bring extensive food and beverage knowledge, business experience, and global network connections to the table. They will help FEAST Global to fast track sales among food and beverage buyers across Mexico, home to three of the world's top 10 tourist destination cities including: San Jose Cabo, Puerto Vallarta and Cancun.
According to Andy Chapman, Founder and CEO of FEAST Global, "Opening our first office in Mexico will allow us to fast track sales of premium food products that will help the Mexican food industry continue to grow - a win-win for everyone."
Benjamin Nava added, "We are so happy to partner with FEAST Global to support the efficient promotion of high quality ingredients in Mexico and help culinary buyers here optimize their ingredient selection process and be encouraged to learn about products that are within their reach for the continued success of their businesses."
Nava's experience includes global culinary leadership and menu advisory roles in Canada, South Korea and Mexico as well as the cruise industry. His extensive memberships and professional leadership roles include current President of the Vatel Club Chapter in the Quintana Roo state, a globally recognized chef association. Nava comes to FEAST Global after a successful career in culinary education where he rose to Director of Culinary Arts at UT Cancun University. He is a certified professional sommelier and certified master mezcalier, and he frequently speaks and serves as culinary talent at conferences, festivals, culinary events, gala dinners and more across Mexico.
FEAST Global has an established network of Mexico customs brokers, logistics resources, food importers and distributors, as well as decision-making chefs and food buyers. Its matchmaking approach efficiently qualifies both buyers and sellers and nurtures new business relationships that lead to long-term relationships and repeat orders for maximum lifetime benefit for both parties.
To kick-off their presence in Mexico, FEAST Global is hosting a public relations campaign for eligible products and trade organizations this summer, targeting pre-qualified food and beverage buyers in the Quintana Roo state of Mexico, including Cancun, Playa del Carmen, Tulum, Riviera Maya, Cozumel, and more. The most requested products by buyers in this region are meats (premium beef, bacon, duck, veal, lamb), dairy products (artisan cheese, butter, sour cream), shelf-stable, premium pantry products including syrups, seasonings and jellies, and fine wines and American spirits.
Interested producers and trade groups can book a no-cost consultation to determine if this activity is a good fit by emailing hello@feastglobal.com.
Join FEAST Global in supporting the growth of the Mexican culinary industry and take advantage of this opportunity to reach culinary buyers in Mexico. Book a consultation today! For more information, follow FEAST Global on social media @gofeastglobal.