A Colombian Feast: Unlocking New Horizons in the Alcobev Industry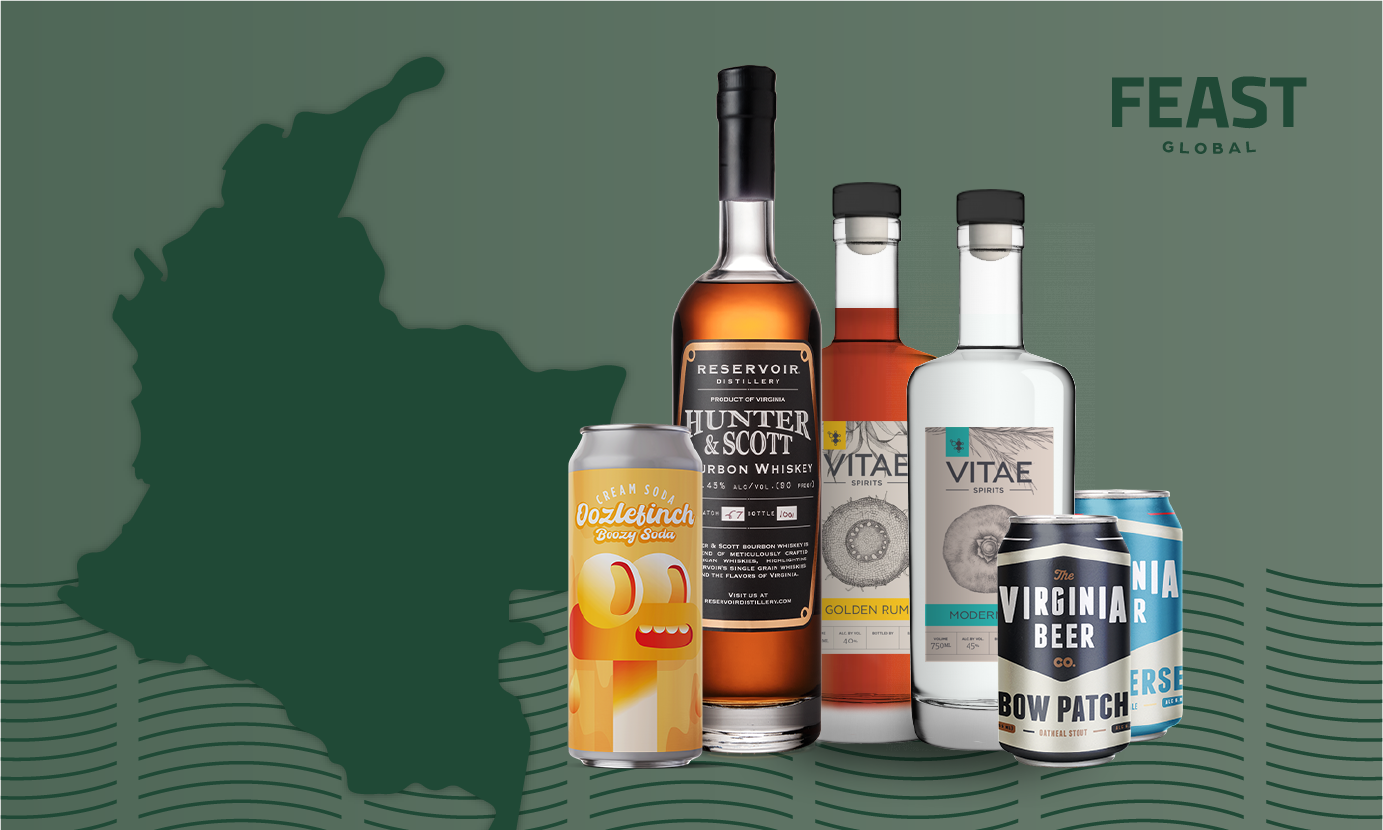 At FEAST Global, we are committed to breaking boundaries and ever exploring new opportunities on behalf of our food and beverage clients. We're thrilled to announce our upcoming trade mission to Bogota, Colombia, from November 7 to 10, 2023, where we will once again be connecting food and beverage products to best-fit buyers in the global marketplace. This time, we have the privilege of representing a portfolio of Virginia-based distilled spirits and craft beer suppliers, including Oozlefinch Beers & Blending, Vitae Spirits, The Virginia Beer Company, and Reservoir Distillery.
Where & Who
Bogota, the vibrant capital of Colombia, will be our stage as we host buyer meetings and participate in a Southern United States Trade Association (SUSTA) trade mission. This event will bring together industry experts, culinary professionals, and potential buyers, offering a unique opportunity to forge new connections and discover fresh opportunities.
Our very own FEAST founders, Andy and Marianna Chapman, will be at the helm, steering this mission toward success. Their experience and passion for the food and beverage industry have driven FEAST Global's continued growth and innovation.
What to Expect
The SUSTA Trade Mission promises a dynamic itinerary, including market briefings, tours, and one-on-one sales meetings with prospective buyers. It is a gateway to understanding the Colombian market and aligning our portfolio of Virginia-based products with local tastes and preferences.
Moreover, FEAST Global will go the extra mile by organizing additional sales meetings and conducting product tasting sessions with buyers and culinary professionals from our global network to open additional doors of opportunity for our Virginia-based suppliers. This dual approach ensures we leave no stone unturned in our quest to foster connections and expand market reach.
Why Colombia?
Colombia is more than just a destination; it's a treasure trove of opportunities in the food and beverage industry. In 2022, food service sales in Colombia grew by a remarkable 24 percent. The country holds the title of being the leading destination for U.S. agricultural exports in South America, with U.S. agrifood exports valued at $3.8 billion in 2022.
Intriguingly, when we look at the top 10 consumer-oriented products imported to Colombia from around the world in 2022, distilled spirits secured the fourth spot. They enjoyed a staggering 27% increase in import value compared to the previous year, underlining the rising demand for premium spirits in the Colombian market.
With a flourishing foodservice and hospitality sector, an emerging resort industry, and a growing appetite for consumer-oriented products, Colombia presents a fertile ground for Virginia distilled spirits and craft beers. Add a friendly free trade agreement to the mix, and we have all the ingredients for a successful venture.
In a rapidly evolving agrifood and beverage industry, FEAST Global remains committed to our mission of expanding horizons and creating connections that create new export sales now and well into the future on behalf of our partners. Our upcoming trade mission to Colombia represents another exciting chapter in our journey. Stay tuned as we unlock new opportunities and write another success story in the ever-evolving world of food and beverage.