FEAST Global Awarded Contract as VDACS In-Region Representative for Latin America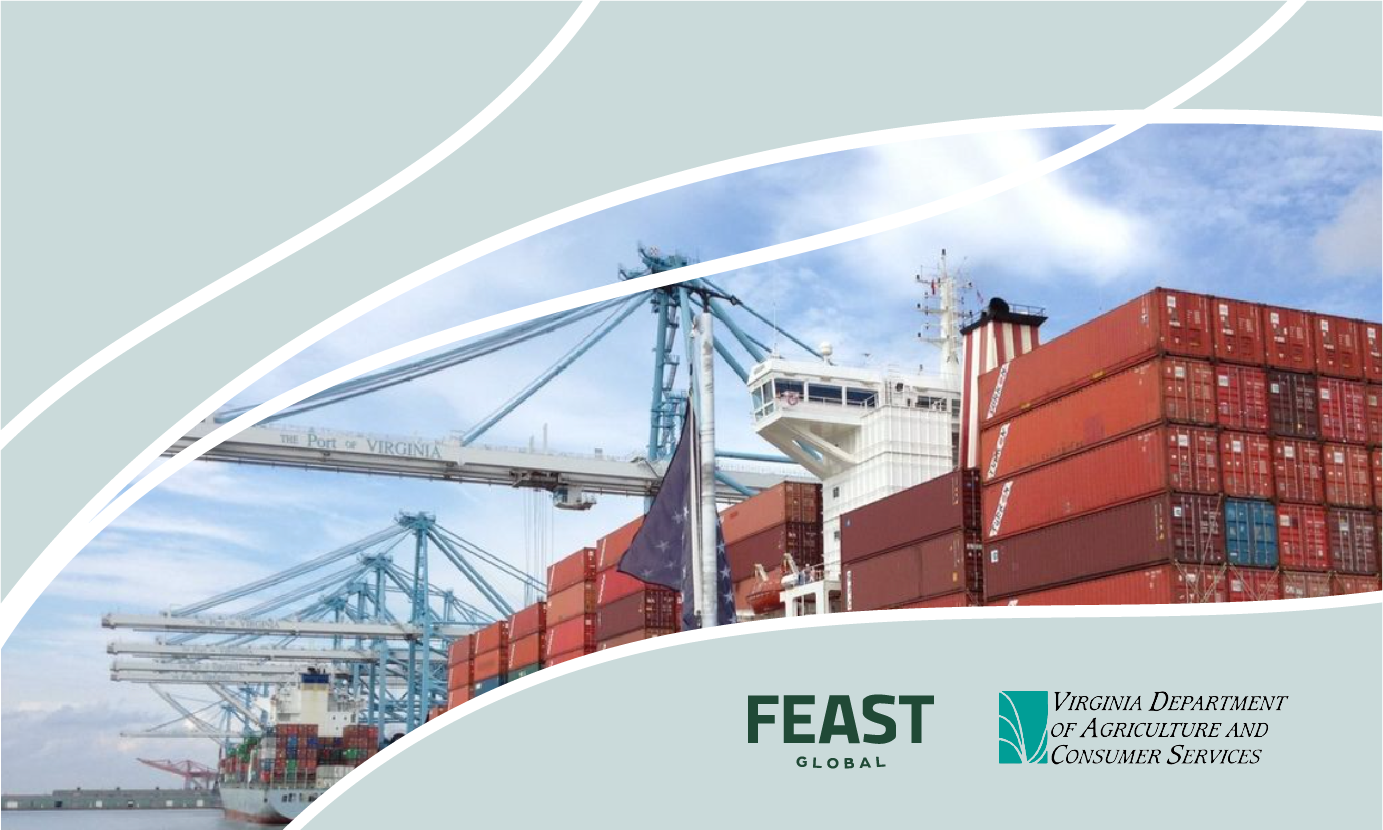 FEAST Global, a leading U.S. based agri-food promotion and trade advisory service provider, is delighted to announce its selection as the in-region consultant to Latin America on behalf of the Virginia Department of Agriculture and Consumer Services (VDACS), an agency of the Commonwealth of Virginia. This contract will enable FEAST Global to facilitate marketing and promotional activities for Virginia-produced exports to Latin America, fostering relationships between Virginia businesses and the region.
FEAST Global's Mexico Office, under the leadership of Benjamin Nava Vargas and Azucena Salazar, will spearhead this important initiative. As the in-region consultant, FEAST Global will undertake strategic initiatives to bolster Virginia-produced food and agricultural products in Latin America. These include building trade relationships, identifying challenges with importing selected products, recruiting and training new Virginia businesses to export and increasing awareness and interest in Virginia-produced goods through targeted recommendations, strategies, and special projects.
FEAST Global's comprehensive approach will encompass a diverse range of activities, such as outbound and inbound trade missions, branding and product category campaigns, buyer education and seminars, sampling events, with sales and networking opportunities. Through these efforts, FEAST Global aims to enhance the competitiveness of Virginia products in the Latin America region, boosting export sales for Virginia businesses.
In collaboration with various U.S. Department of Agriculture cooperators, including the Southern United States Trade Association (SUSTA), the American Hardwood Export Council, the U.S. Grains Council, and others, FEAST Global will amplify the impact of their endeavors. Additionally, FEAST Global will collaborate with U.S. Department of Agriculture posts in Mexico, Central America, South America, and the Caribbean island region to leverage their market expertise and extend their reach on behalf of Virginia producers.
Virginia boasts a diverse range of agriculture, food, and beverage industries, establishing it as a formidable force in the global marketplace. With annual agricultural exports exceeding $5 billion, these industries significantly contribute to the state's economy. FEAST Global's support will empower Virginia businesses to expand their market presence in Latin America, unlocking new avenues for growth and success.
Andy Chapman, CEO of FEAST Global, expressed enthusiasm about the collaboration, stating, "We have always enjoyed working with Virginia producers and have had nothing but positive experiences with the VDACS team over the years. In a world where technology affects nearly every aspect of business, relationships are still the bedrock. We are honored to leverage our relationships to grow exports for Commonwealth businesses."
FEAST Global's extensive network and relationships in the culinary industry in Latin America including their Latin America Culinary Advisory Board, combined with their global presence and strategic offices in India and the Asia-Pacific, uniquely position them to provide exclusive connections for Virginia businesses within the region. This global perspective and strategic advantage will foster increased engagement and market access for Virginia-produced products, particularly benefiting small and medium-sized enterprises.
Under the visionary leadership of Marianna and Andy Chapman, FEAST Global brings an impressive combined experience of 50 years in business development and agri-food trade promotion services. Their expertise in food promotion, export, and trade advisory, along with their recent alliance with OnPoint Strategies, led by former Georgia Commissioner of Agriculture, Gary Black, will be instrumental in the success of this project.
FEAST Global has a history of successful collaboration with key industry organizations, including the Southern United States Trade Association, U.S. Sorghum Checkoff, Georgia Pecan Growers Association, Texas Department of Agriculture, Georgia Department of Agriculture, New Hampshire Maple Producers Association, Cranberry Marketing Committee, The Dairy Alliance, National Veal Program, and others, while their expertise spans various product categories, from poultry and meats to tree nuts, fresh fruits and vegetables, specialty products, fine wines, and distilled spirits, among others.
Virginia's global outreach has been successful in markets like Canada and China, and with the support of FEAST Global's unparalleled market access and connections in Latin America, they aim to expand opportunities for the state's businesses even further. Together, VDACS and FEAST Global are committed to bolstering Virginia's presence in the Latin America region and advancing the success of Virginia-produced food and agricultural products.
For more information about FEAST Global and their services, please visit www.feastglobal.com.