Cultivating Culinary Excellence: Meet FEAST Global's India Culinary Advisory Board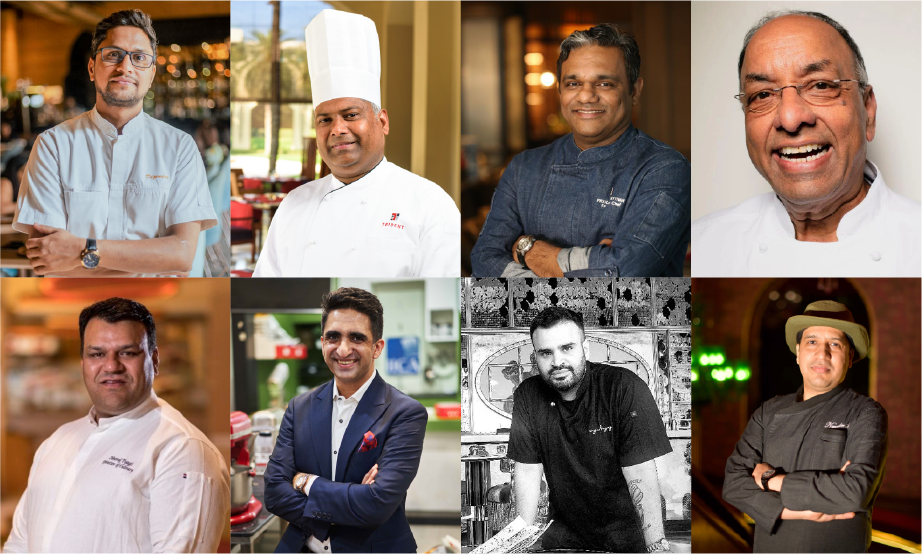 In our previous post, we introduced you to FEAST Global's India Culinary Advisory Board, a distinguished group of culinary visionaries deeply committed to two essential goals: facilitating access to exceptional ingredients in India and elevating India's culinary status on the global stage. As we delve into their profiles, you'll gain a deeper understanding of their dedication to these crucial missions.

Chef Sagar Bajaj
Chef Sagar Bajaj, the Culinary Head at First Fiddle Restaurant Pvt Ltd, stands as a culinary virtuoso with a penchant for global ingredient sourcing. Under his expert culinary guidance, First Fiddle has burgeoned into one of India's leading food and beverage companies, boasting a staggering 30+ restaurants and 15 franchised brands across India's diverse culinary landscape.
Bajaj's culinary journey has been seasoned with international experiences, including culinary training in Australia. His globetrotting adventures have not only honed his culinary skills but also broadened his palate, enabling him to seamlessly integrate global flavors into the vibrant tapestry of Indian cuisine.
Chef Prakash Chettiyar
With over 14 years of culinary experience, Chef Prakash Chettiyar brings a dynamic and innovative energy to JW Marriott Kolkata's diverse culinary scene. Armed with a degree in Hotel Management from IHM, Chennai (2000), Chef Prakash started his culinary journey from Trident Cochin. Chef Charlie Trotter and Chef Eric Ripert have been his inspiration, leading him to continuously learn and explore the culinary craft. Since 2004, he has undergone specialized training in several premiere properties across India like Marriott Kochi, Oberoi Bangalore, The Oberoi Grand Kolkata, The Oberoi New Delhi, and The Oberoi Udaivilas. Chef Prakash's culinary repertoire spans Italian, Thai, Chinese, Coastal, and Indian cuisines, solidifying his reputation as a versatile culinary expert.
Arjun Datta
Arjun Datta, the esteemed Managing Director and Chief Operating Officer at the International Institute of Culinary Arts (IICA) in Delhi, personifies a commitment to culinary excellence nurtured on an international stage. IICA, accredited by the World Association of Chefs Societies (WACS), stands as a bastion of culinary education in India.
Datta's educational odyssey encompasses a journey from the Manchester Metropolitan University U.K., where he held the distinguished position of Student Union president, to Cornell University in the USA. These formative experiences have been supplemented by a rich tapestry of professional endeavors, spanning the United Kingdom, Dubai, and India. It was this fusion of global exposure that ignited Datta's passion for sourcing exceptional ingredients and networking the best minds in the global culinary community toward elevating Indian cuisine to its pinnacle.
Chef Arun Mathur
Chef Arun Mathur, the brilliant Executive Chef at The Oberoi Hotels and Resorts, spearheads culinary excellence at Trident, Gurgaon. With award-winning restaurants under his aegis, including the celebrated all-day dining venue Cilantro, the North Indian gem Saffron, and the Pan Asian culinary haven Konomi, Chef Arun has left an indelible mark on India's gastronomic landscape.
His culinary voyage has taken him to the hallowed halls of Michelin-starred restaurants in London and seen him conduct culinary symphonies in exotic locales like Croatia and Singapore. Beyond this, Chef Arun's culinary prowess has graced the tables of global luminaries, including Warren Buffet, Bill Gates, Melinda Gates, Lakshmi Mittal, and even the former President of India, Shri Pranav Mukherjee, as part of a prestigious travel delegation.
Chef Narender Singh
Chef Narender Singh, a seasoned culinary maestro, currently serves as a Corporate Chef for BelCibo Hospitality Pvt Ltd, orchestrating culinary magic at Khubani, Imperfecto, and Smaaash within Andaz Hyatt Aerocity Delhi. His illustrious career, spanning twenty years, has seen him take the helm at numerous private restaurant groups and renowned hotel resort properties under prestigious banners like ITC, Pullman, Novotel, Leela Palace, and Sheraton.
Chef Singh's culinary journey has traversed international boundaries, with significant culinary accolades, continued education certificates, and guest chef opportunities in Malaysia and Thailand to his name. His passion for discovering and showcasing new culinary ingredients, often through international trade promotions, underscores his commitment to elevating the culinary landscape in India.
Chef Dipender Tiwari
Chef Dipender Tiwari, a distinguished Corporate Chef at BelCibo Hospitality, leads the charge in pioneering new culinary projects. His eclectic career path has seen him traverse diverse culinary landscapes, from leading kitchens at the illustrious Hyatt in Hyderabad to honing his culinary craft aboard cruise ships under the tutelage of German and French culinary luminaries. It was during this time that he had the privilege of working at the five-star signature restaurant of French master chef Jacques Pepin, aptly named "Jacques."
Upon returning to Delhi in 2017, Tiwari made an indelible impact, first at the helm of Olive Kitchen & Bar and then as the Executive Chef of Qla, a European fine dining restaurant in Delhi. Chef Tiwari's commitment to the use of fresh, top-tier ingredients underscores his relentless pursuit of culinary excellence.
Chef Neeraj Tyagi
Chef Neeraj Tyagi, a seasoned culinary luminary, currently serves as a culinary consultant for Nohm Hospitality Group. He spearheads upcoming restaurants in Dubai and plays a pivotal role in the development of a new Hyatt Andaz property in Hyderabad. Tyagi's illustrious career has seen him associated with prestigious brands like The Claridges, Hyatt, Park Royal, ITC, and Shangri-La, to name a few.
His international work experiences have taken him to diverse culinary landscapes, including Jordan, Singapore, Maldives, London, and the UAE. Tyagi's commitment to culinary innovation is evident in his introduction of groundbreaking concepts like "The Farmers Basket," which has transformed the local culinary scene, enhancing the guest experience and underscoring his dedication to culinary excellence.
Chef Arvinder "Dickey" Vilkhu
With over four decades of culinary expertise, Chef Arvinder "Dickey" Vilkhu is a trailblazer in the world of fusion cuisine. His culinary journey began in India, where he honed his skills and passion for food. After earning his degree in Hotel Management in 1977, he worked at prestigious establishments like the Maurya Hotel and the Taj Group of hotels.
In 1984, Chef Vilkhu and his wife, Pardeep, moved to the United States, where he managed the Food and Beverage department at the InterContinental Hotel. The Vilkhu's mission to communicate the evolution of Indian Cuisine by making it accessible to guests on a modern stage launched Saffron Caterers. In 2018, his dedication to culinary excellence earned his fine-dining restaurant, Saffron Nola, a coveted James Beard Award nomination for Best New Restaurant, cementing his status as a culinary visionary.
Commitment to Excellence
These culinary luminaries bring a wealth of international experience and a commitment to sourcing the finest ingredients to the India Culinary Advisory Board. Their collective goal is to empower food producers with the knowledge and resources needed to usher Indian cuisine to the forefront of global gastronomy. Their mission is rooted in passion, experience, and an unwavering dedication to culinary excellence.
Why Invest in India: Unlocking Opportunities with Culinary Experts
Why should American food and beverage producers prioritize investing in India? The answer lies in the boundless potential of this thriving market and the invaluable partnership opportunity it presents. India, boasting the world's largest population, stands as an ideal market for your products. Moreover, with the U.S. positioned as India's largest trading partner, the doors to vast possibilities are wide open.
India's Food and Grocery (F&G) retail market ranks among the top three globally and is poised to surpass the US$850 billion mark by 2025. Simultaneously, the Indian Food Service Market is experiencing robust growth, set to reach a staggering US$95.7 billion by 2025. This meteoric rise is fueled by urbanization, escalating incomes, evolving culinary preferences, and an ever-increasing demand for foreign cuisines and healthy food options.
When you partner with the esteemed and dedicated culinary professionals of FEAST Global's India Culinary Advisory Board to access India's opportunity-filled market, you're embarking on a culinary journey that transcends mere business ventures. Alongside these passionate and trusted professionals, who possess both global business acumen and a profound understanding of the Indian culinary landscape, you'll find unwavering support to evaluate and introduce your products into the Indian marketplace. This partnership not only adds confidence but also enhances the efficiency of your India market entry, ensuring a seamless and successful foray into this dynamic and thriving market.
Seizing the Opportunity
With a basic startup budget and the guidance of experts like those on FEAST Global's India Culinary Advisory Board, American producers can tap into this lucrative market. Reports suggest promising export opportunities in retail, food service, and food ingredient sectors, especially in categories like sweets and snacks.
Explore the immense potential of the Indian market, and let FEAST Global and our culinary experts guide you on your journey to success. Learn more about India's thriving culinary scene and market opportunities on our blog: Read More